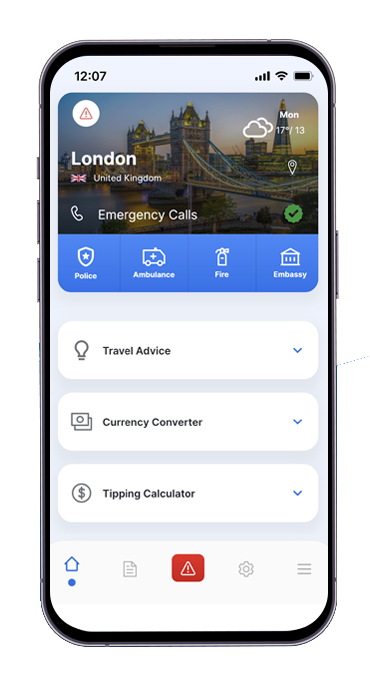 Travel smart, with peace of mind.
November 21, 2023
Top Travel Tips You Need to Know in 2024! Are you gearing up for your next adventure in 2024? Whether you're a seasoned
[…]
November 11, 2023
Looking to embark on your next adventure? Discover the top destinations where safety meets wanderlust, promising unforgettable experiences without compromising your peace of
[…]
1
Is the Travel Smart App the safest Travel App on the market?
The Travel Smart App is the safest travel app available, prioritizing your security and peace of mind throughout your journey. Here are some key reasons why our app stands out in terms of safety:
Call Police and Emergency Services: In case of any emergency, the Travel Smart App provides direct access to police and emergency services in every country. With just a few taps, you can quickly connect with the local authorities, ensuring prompt assistance when needed.
Call Your National Embassy: We understand the importance of consular assistance when you're in a foreign country. That's why our app allows you to call your national embassy or consulate directly. Whether you need help with lost documents or require support in unforeseen situations, your embassy is just a phone call away.
TGuard 24/7 Notifications and Monitoring: The Travel Smart App incorporates the cutting-edge TGuard 24/7 technology, which keeps you informed about travel safety in real-time. This technology combines information from trusted sources such as government agencies, intelligence sources, and TGuard's own monitoring to provide you with up-to-date notifications and alerts regarding potential risks or security concerns.
Information about Scams and Dangerous Areas: Our app is designed to empower you with knowledge to avoid scams and stay away from dangerous areas. We provide valuable information and tips to help you recognize common travel scams and guide you on how to navigate unfamiliar territories safely.
Comprehensive Travel Safety Resources: The Travel Smart App goes beyond just notifications and emergency contacts. It offers a wealth of resources and information related to travel safety. You can access safety guidelines, learn about local customs and laws, and receive advice on staying secure during your travels.
By integrating features such as direct emergency calls, access to national embassies, TGuard 24/7 notifications and monitoring, information about scams and dangerous areas, and comprehensive travel safety resources, the Travel Smart App ensures that your safety is our top priority. You can have peace of mind knowing that you have a reliable companion to guide and assist you throughout your travels.
2
The one travel app to replace them all, not only safe but best travel app?
The Travel Smart App is the epitome of the best travel app on the market, offering a comprehensive package of features that make it a one-stop solution for all your travel needs.
The App brings together all travel information and features in one convenient place. No more juggling multiple apps or websites to gather essential details about your destination. From currency exchange rates and weather forecasts to cultural etiquette and places to visit, the app consolidates all the necessary information you need for a seamless travel experience.
But what truly sets the Travel Smart App apart is its emphasis on travel safety. With this app, you receive real-time travel safety notifications that keep you informed about any potential risks or security concerns. These notifications are sourced from trusted government, intelligence agencies, and TGuard 24/7 technology, ensuring that you stay safe and informed during your journey.
In addition to travel information and safety notifications, the Travel Smart App offers an array of other features designed to enhance your travel experience. These features include the ability to call your national embassy or consulate directly from within the app, providing you with immediate assistance and support when needed. Furthermore, the app incorporates a currency converter, allowing you to easily calculate and manage your expenses in different currencies. You can also access cultural etiquette guidelines, enabling you to navigate social situations with respect and cultural awareness.
By combining all travel information in one place, delivering travel safety notifications, and offering a range of other useful features, the Travel Smart App ensures that you have everything you need for a successful and enjoyable journey. Whether you're a seasoned traveler or a first-time explorer, this app is your trusted companion, providing convenience, safety, and invaluable insights throughout your travels.
3
What kind of travel tips are in the Travel Smart app?
Smart Travel Tips are one of the main features of this awesome travel app! We've got your back with a treasure trove of invaluable travel advice to make your adventures even more epic.
First up, let's talk about the currency converter. No more scratching your head over confusing exchange rates or getting swindled by shady money changers. Our real-time currency converter ensures you'll always know exactly how much you're spending in your home currency.
Now, let's check out the weather outlook feature. Whether you're a sun seeker or a rain dancer, our app keeps you in the loop with up-to-date weather forecasts for your destination. No more surprises with unexpected downpours or scorching heatwaves – you'll be prepared to slay any weather!
Dont know how much to tip when travelling? The Travel Smart app includes a tipping calculator designed specifically for restaurants. No more awkwardly fumbling with numbers or worrying about overtipping or undertipping. We'll help you navigate the tipping culture of different countries, ensuring you leave the right amount and maintain your foodie reputation!
But hey, it's not just about numbers and weather. We've also got your back with some killer cultural advice. From the dos and don'ts of local customs to understanding social norms, our app gives you the inside scoop on how to be a respectful and mindful traveller. Say goodbye to unintentional cultural faux pas – you'll be impressing the locals with your travel-savvy skills!
Now, let's talk about the best part of any journey – the places to visit! Our app provides you with a curated list of must-see attractions, hidden gems, and off-the-beaten-path wonders. Whether you're a history buff, an adrenaline junkie, or a beach bum, we've got recommendations to suit every taste and travel style. Get ready to create memories that will make your friends green with envy!
Time to travel smart! We've also got your safety covered. Our app highlights the things to avoid and dangerous places you should be aware of during your travels. We want you to have a fantastic experience, so we'll help you navigate any potential pitfalls and ensure you stay out of harm's way.
So, buckle up, fellow adventurer! With our app's travel tips, currency converter, weather outlook, tipping calculator, cultural advice, places to visit, things to avoid, and knowledge of dangerous places, you're all set for an unforgettable journey. Get ready to explore, have fun, and make memories that will last a lifetime. Bon voyage!
4
What government sources are used in the paid version?
In the paid version of the Travel Smart app, we utilize the cutting-edge TGuard 24/7 technology to ensure your trip is smart and safe. This technology integrates various government sources, including the US Department of State, UK National Archives, and Australian Smart Traveller. Additionally, TGuard has in-house 24/7 monitoring to provide you with realtime travel notifications. With this comprehensive approach, you can trust that our app will keep you well-informed and prepared for a secure journey.
5
What kind of travel safety notifications can I expect?
With a Travel Smart app subscription, you will receive travel safety notifications should anything of concern happen in the country you are travelling in. The service is provided by TGuard 24/7, so you can sleep at night and know you will receive a message should any danger arise.
Push notification messages include information for:
Severe weather risks
Terrorism
Intelligence agency country alerts
Natural disasters or risks
War or major threats
Airport closures
Anything that may effect your travel
6
I have advice I would like to share with the Travel Smart app, how can I do this?
7
How do I link my travel documents to Travel Smart?
Firstly, make sure your device has been given the appropriate storage access permissions to Travel Smart. This can be done in your phones settings, under app management. Now just go to the Travel Docs page inside the Travel Smart app, click the folder where you wish to add your travel document and navigate to where the document is saved.
The travel document must either be saved either your phone, Gdrive, Dropbox, iCloud or other storage systems that your phone has access to.
Remember Travel Smart does not store your documents, it only connects them to the app so they are all collated in one convenient place for easy access when you travel.